these Products are making me thirsty!
Seingrams Aka The Jerkstore.
The place where you can find original high-quality seinfeld merch & let me tell you something: They're real and they're spectacular!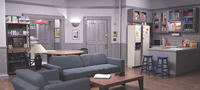 I beg you pardon?
Seingrams takes a back seat to no other Seinfeld store, It should be on every platform and social media. Anytime anyone says, "Oh this shirt or mug is so good, who made it?" The answer invariably comes back, Seingrams! Seingrams! Again and again. Ordinary store - I think not !
Followed on istagram by 17100 awesome Seinfeld fans!